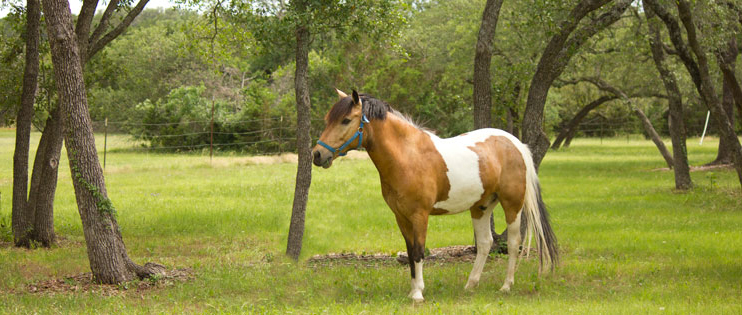 I'm Patches, and I've been at Open My World since 2009.
I'm an American pony and my breed name is Chincoteague.  My breed is kind of famous because in 1947 a children's novel was written by Marguerite Henry called Misty of Chincoteague.  She tells all about a particular family who raised a filly who looked very much like me.
Our breed originally come from an island in Virginia where there are many wild ponies.  Each year since 1925 there is a special day called "Penning Day" in which people round up some of the young ponies to give them some training and then special jobs.  I don't remember much about my "Penning Day" since I was very young, but a nice man took me home and took care of me.  He had lots of experience with training horses so he taught me how to be led, to wear a saddle, and eventually to be ridden by his grandchildren.
You can learn more about Chincoteague ponies on Wikipedia.
---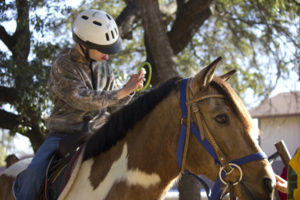 When I was six years old, my owners realized that all his grandchildren were now getting too big to ride me.  So, it was time for me to get a new job.  That's when I came to Open My World.   I soon adapted to a new kind of work with children who had some special needs that could be helped by riding.  I was soon a favorite at Open My World because my size was just perfect for many of the smaller kids and because I was strong enough to carry even some of the kids that were a little bit bigger.
---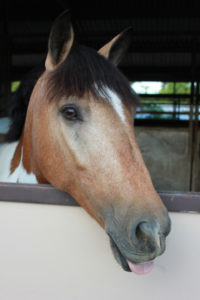 I tend to be quite playful, and I have a sense of humor that sometimes will make you laugh out loud! When it is play time, I love to roll around with my feet up in the air. And, sometimes I like to run just for the joy of it!
Life is so good, I don't see any reason to not enjoy every moment.
Here's a funny picture of me with my tongue sticking out.
---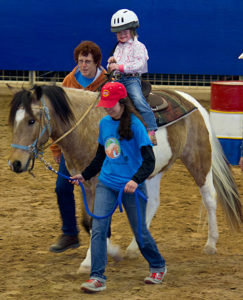 There are all kinds of fun activities to do at Open My World.
Therapy sessions involve lots of walking through beautiful tree lined trials as well as work in a big arena.
Sometimes we even get to participate in special events. For instance, we got to participate in a special rodeo for kids. It was a bit of a competition. I was so proud when one of my riders won a special prize for her skill in working with me.  She gave me the biggest hug!
---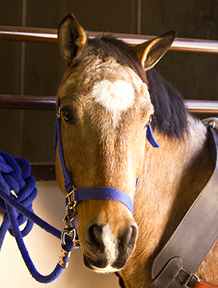 There is one very special thing about me that most people don't notice.  I have a near perfect heart shape patch of white on my forehead.  People don't notice it is there because my dark forelock covers it up most of the time.
It is so much fun when someone is brushing my mane and suddenly they lift my forelock.  It is such a surprise to them to see my valentine!
---
I don't really like to be the last horse to be taken in at dinner time. By then, I'm as hungry as a horse and ready to eat!  I love to eat and I know that it costs a lot to take care of a horse because besides food we need bedding, veterinarian and farrier care.  And then there are the special things we need to do our work–like saddles, bridals, fly masks, and reins. Just to give you an idea of what it costs for regular maintenance:
Every six weeks, hooves trimmed or pedicure ($30)
Daily bedding change (to keep feet clean and healthy) 5 bags per week ($30/week)
Daily feed, 16 lbs of hay ($14/day or $98/week)
That totals up to $798 every six weeks! Would you like to help with a donation to help take care of my needs?