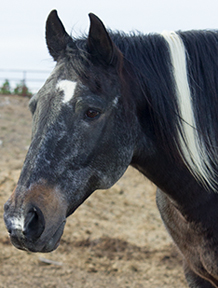 I'm Rossi, a black and white paint.   I've been at Open My World since 2016.  But, before I came to Open My World, I was a show horse for a lovely young lady.  We had a great time doing the show circuit, but all good things must come to an end. My rider was getting too big for me and needed a larger horse to work the shows with her.  She and I will always love each other, but both of us knew it was time for her to get a bigger horse, and time for me to take on new challenges.  We both agreed that going to Open My World to help people would be the perfect job for me.
---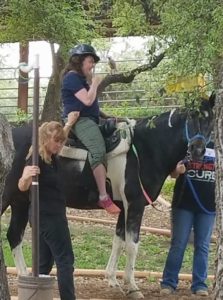 I love people. Everyone at Open My World has been so nice to me and treats me with kindness and gentleness.
My work is wonderful too. I often get to carry people around some beautiful tree-lined trails. Sometimes we stop so that they can play games, which I think help to make them healthy and strong.
By the sounds they make, I realize that they are having lots of fun just like I am!
---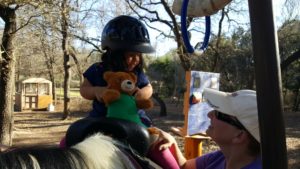 Since I'm not a very big horse, I get to carry around some of the youngest riders. I know I have to be extra careful with them since they don't have a lot of riding experience. But, volunteers and therapists at Open My World always walk along side of me to make sure that the little ones are very safe.
I do my part too, by trying to understand and follow any instructions they give me. It really is great fun and a challenge too.
---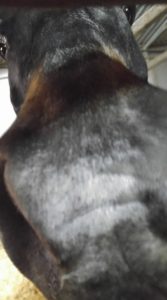 When I'm not working, I get to play with the other horses in a great big field with a nice smooth hill. Play time is just as much fun as work time! And, I have become close friends with a lovely mare named Sadie. She's become my very special friend. I love it when we get to be turned out together.
But, if you come by to meet me when I'm in the field (and I hope you do), I will probably be the first horse to come to the fence to greet you.
---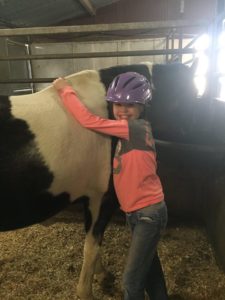 At night I have a nice airy stall to sleep in.  My stall always has some soft bedding all over the floor so that I can rest up for the next adventure.   And, there is a special automatic watering bowl in the corner, that fills up like magic every time I take a drink!
While I love to be out working and playing during the day, I'm always so pleased to return to my stall in the evening for my dinner and a nice rest.
---
I love to eat, especially my breakfast.  When the sun peeps out, my stomach starts growling and I start listening for the grain pellets that rattle around in the buckets.  Soon after sunrise, here comes some lovely volunteer at Open My World with my special bucket and a wheelbarrow of hay.   I always nicker with joy as I pace back and forth with excitement.  When I see that bucket, I hurry over to put my nose in it so I can get my first taste!  YUM.
I know that it costs a lot to take care of a horse because besides food we need bedding, veterinarian and farrier care.  And then there are the special things we need to do our work–like saddles, bridals, fly masks, and reins. Just to give you an idea of what it costs for regular maintenance:
Every six weeks, hooves trimmed or pedicure ($30)
Daily bedding change (to keep feet clean and healthy) 5 bags per week ($30/week)
Daily feed, 16 lbs of hay ($14/day or $98/week)
That totals up to $798 every six weeks! Would you like to help with a donation to help take care of my needs?