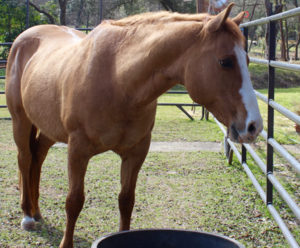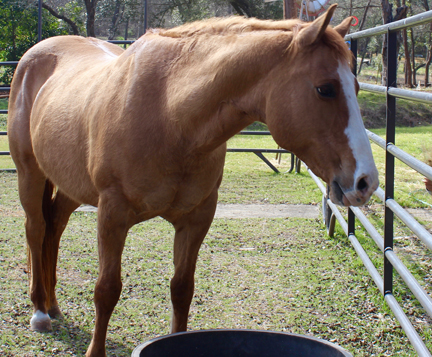 My name is Sadie.  I'm one of the mares at Open My World.  I'm a rescue horse—so the story of my young life is a bit sad and I don't like to remember it much.  I was rescued by some really nice people who took me to a beautiful place with lots of fine horses.  After some training and gentle treatment from them, they kindly donated me to Open My World.  I was a little nervous when I got there, but in no time I felt quite at home.  Since I've been at Open My World, I've replaced all my sad memories with joy.
---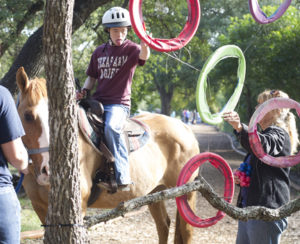 I've learned that the work I do as a therapy horse really helps the people who ride me.  I love all my riders, and am so happy to help them grow stronger and learn new things.   I've become especially fond of working with riders who are learning to ride independently.  That means, they no longer have a helper leading their horse, but are able to tell me what they need by using their reins. 
Sometimes, when I think we are done riding and it is time to head to the barn, I turn towards the gate.  But, if they realize where I'm going and are not ready to end their ride, they have to anticipate where I want to go and let me know with their reins.  It has become kind of a little game we play.   My rider and the therapist sometimes even keep score—giving me a point if I get turned all the way towards the gate and the rider a point if they anticipate my direction and turn me back!  It is great fun!  I don't even mind losing points because I know my rider is learning how to ride like a pro.
---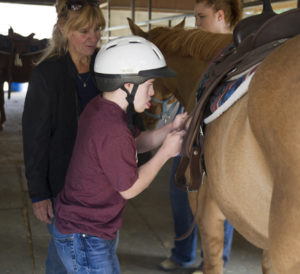 One special thing about me is that I have a lovely buckskin coat with ancient markings—sometimes called primitive markings because they are similar to horses that lived a long time ago.   I have a dorsal stripe on my back and some stripes on my front legs.  These stripes are sometimes called zebra bars or tiger stripes.  Whatever they are called, they give me a unique look. If you come to see me, don't forget to look for them.
---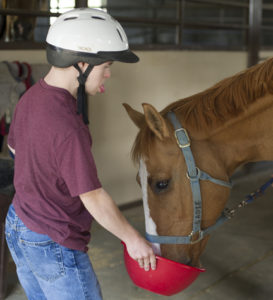 I love to eat and I always "clean my plate"–eating every bit of the healthy good food that I get each day.  I'm a pretty fast eater too.  I just can't seem to help myself because the food is so very yummy!
I know that it costs a lot to take care of a horse because besides food we need bedding, veterinarian and farrier care.  And then there are the special things we need to do our work–like saddles, bridals, fly masks, and reins. Just to give you an idea of what it costs for regular maintenance:
Every six weeks, hooves trimmed or pedicure ($30)
Daily bedding change (to keep feet clean and healthy) 7 bags per week ($42/week)
Daily feed, 16 lbs of hay ($14/day or $98/week)
That totals up to $870 every six weeks! Would you like to help with a donation to help take care of my needs?