Our therapy sessions are individually tailored and provide a safe and structured riding experience. The client's strengths, capabilities and their individual personality, are all considered when determining the structure, the content and activities that is included in each session. 
Open My World follows Professional Association of Therapeutic Horsemanship International (PATH) standards and certifications.
---
SENSORY TRAILS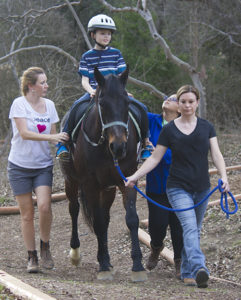 Unlike many centers, the sessions do not solely take place in an arena setting. Students ride on the center's "sensory trails" which wind through large oak trees and over a number of bridges. Real and artificial wildlife along the trail offer a natural setting and provide a true multi-sensory experience. Sessions are also held in a beautiful covered arena on a bluff above the trails.
---
THERAPEUTIC GOALS AND SAMPLE ACTIVITIES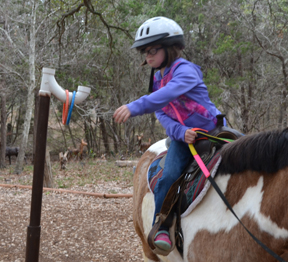 The activities which take place during sessions require stretching, bending, and balance, which help develop or improve motor skills. All these activities are completed by students while mounted. Depending the student's capabilities, basic horsemanship and riding skills are also acquired. Goals and objectives can be addressed and accomplished during a therapy session. Unique activities help clients work on following directions, eye-hand coordination, balance, development of upper body and arm muscle strength, and increased stamina.
For example:
Clients work on maneuvering their horse between poles laid down on the ground.  This activity requires positioning of the horse and a good judgment of distance.
Riders are sometimes asked to place a hoop onto a pole.  For this activity, stretching and eye-hand coordination are both required. Handling the hoop may require transferring it from one hand to another to enhance motor skills.
Riding the horse between colored cones requires awareness of distance, directional change, knowledge of right and left and colors. All are incorporated into this exercise.
Tossing a ball requires balance, eye-hand coordination and a sense of timing. An additional outcome is feeling secure and confident enough to attempt the challenging task while mounted, thus enhancing self confidence and self esteem.
---
BUILDING SELF CONFIDENCE AND MORE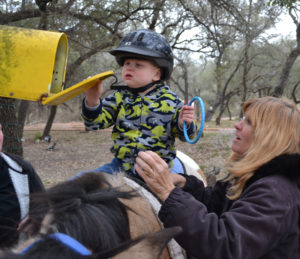 Throughout every session clients are given words and cheers of encouragement, which in turn, helps to build self-confidence, improve self-esteem, heightens their awareness of their own achievements, and helps with the expansion of their personal capabilities.
Here's one life that has been changed – Hannah was very timid, almost non-verbal, and unsure of herself when she first began coming to Open My World. She would not come into the barn if there was anyone other than the instructor or Mom in the barn. No one else could be in sight.  Her responses to questions were two or three words at best. She cried at the smallest verbal correction.

Within six months, she was able to be in the barn with others and have limited interaction. Within a year she was riding independently and participated in a horse show with an audience.  She also gave a speech in front of her classmates!