"We make a living by what we get, but we make a life by what we give." 

 Winston Churchill
WHY VOLUNTEER?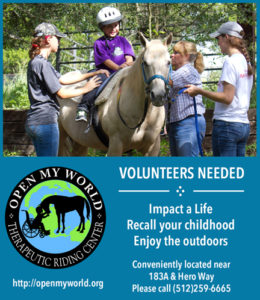 What makes volunteering at Open My World unique is that you will get to experience the impact that a horse provides to a special needs individual. You may get to help an individual that couldn't walk, walk; a child that couldn't talk, talk; or help someone accomplish what they thought was the impossible.
---
WHY WE NEED YOU & HOW YOU CAN HELP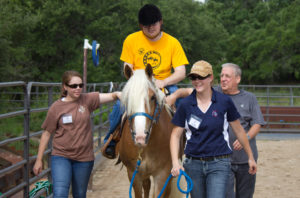 Like all non-profits, Open My World relies on community support from many sources. Hundreds of volunteer hours are needed to help these individuals.  No matter what your interest or age, we probably can find a job for you.  We need volunteers to help with therapy, to help in the office, to help with landscaping, to care for the horses, and much more.  And, volunteering at Open My World can be a family event!
Here are some brief descriptions of some of the jobs our volunteers help with:
Sidewalkers and horse leaders work directly with the horses and the clients during their sessions.  We request prior to attending training a volunteer observe at least two (2) client sessions. Volunteers who wish to work directly with special needs students must be at least 15 years old.
Office staff supporters help with the management and office work that supports the work we do.  They can answer calls, organize schedules, help with fundraising and other light office duties as needed.
Horse care givers participate in activities that support the care and maintenance of our special horses.  Their work may include feeding, bathing, cleaning stalls, walking and or exercising horses and more.
Landscapers and property maintenance helpers keep the grounds and the trails in great shape and help with any other projects that can enhance our therapy environment, including developing activities that can be done by clients on horseback!
---
HOW TO VOLUNTEER

If you have chosen to give some of your time volunteering, we hope that in doing so, you will find that your own life has been enhanced along with the great service you provide for our clients. All of us at Open My World are proud of the fine work we do and the extraordinary results that we see. We are dedicated to enriching the physical, emotions, behavioral, and social well‐being of our participants in an environment that is safe, nurturing, challenging and fun.
We want you to know that every person you are helping at Open My World Therapeutic Riding is aware of and grateful for your help. Without your service, your smile, and the contribution of your time, our program could not exist.
Thank you for considering becoming a part of our growing organization.
If you are interested in volunteering at Open My World, please sign up below.
Here's one life that has been changed – Carley came to Open My World very shy and unsure of herself. Her limited reading skills had been attributed to learning disabilities which compounded her poor self-esteem.  

As she began experiencing riding and connecting with the horses, she not only gained new skills but also gained a sense of accomplishment. As she rode on our trails, she began reading word cards with directions. We placed the cards at different stations around our trails to develop her reading skills. She read her first chapter book after 2 months of riding at Open My World. The fact that she knew she was able to control and maneuver a thousand pound animal gave her new confidence and the courage to try new things.