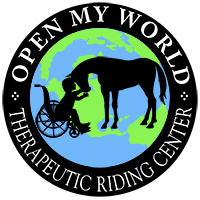 Therapeutic Riding
This innovative approach enables many individuals with physical, mental, and emotional disabilities to gain life skills and achieve goals that have not been attainable through traditional therapy methods. Therapeutic riding is based on the beneficial movement of the horse. The three-dimensional, rhythmical motion of the horse stimulates and works the muscles of the rider. 
---
Here's one life that has been changed – The first time Michael rode Patches on a bareback pad, he required 3 people just to hold him on. He was unable to bend his legs and he could only sit at a 90% angle forward. He was in some pain but would not allow his ride to end before he had made at least 3 loops around the barn.

That was almost four years ago.  Now, Michael shows marked improvement in core strength, balance, coordination and so much more. He feels that therapy has dramatically changed his life.  Not only has he begun walking with a walker, but he has also begun dating.  He even earned his associates degree from a local college and is planning to continue his studies.   
Please consider a monthly donation to support our scholarship program.  Together we can help clients like Michael succeed!