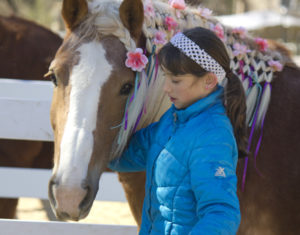 "Bella" means beautiful in Italian, French, and Spanish… and probably a lot of other languages.   I don't exactly know if they named me that because they thought I was  beautiful on the outside–because aren't all horses beautiful?  But, I really try to be beautiful on the inside.  I just love the people who I get to work with and I want to do my best to please them always.
---
My breed, the Halflinger is also sometimes called Aveglinese.   We Halflingers are pretty strong for our size.  Lots of people like to have us pull carts and so we are classified as draft horses, but we are great for riding too.  I can carry about 245 pounds of weight on my back with ease! You can read more about my breed if you like by going to the Halflinger Wikipedia page.
---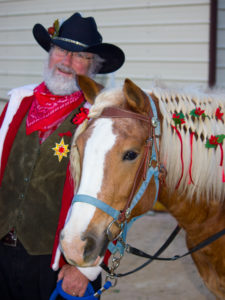 The chestnut coat you see and the flaxen mane and tail is a distinguishing feature of my breed.  Most of the time my mane and tail are brushed and left unbraided so that they flow beautifully and naturally in the wind.  But, sometimes people like to make special braids in them because they are both quite long and full.  On special occasions, they sometimes like to weave ribbons and flowers in my mane.  On those days I know something special is about to happen!  A couple of times I even had my photo taken with Cowboy Santa Clause!
---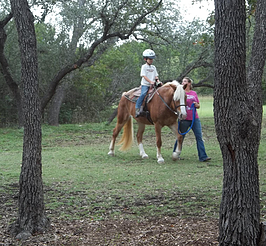 I started working at Open My World in 2013 when I was only six years old.  The day I arrived was so exciting.  I watched while the other horses were helping people; and, I knew I had found a place where I could be very happy.  There would be a period of learning first, and some testing to make sure I was ready for work as a therapy horse.   But, before long, I learned enough to start my job, and the nice folks at Open My World were satisfied that I was ready to begin my work.
---
My favorite part of the day is when I do therapy.  In know I'm helping some very special people when I do that.  But, I also like my play time. That's when I get to go out and just relax and enjoy the wonderful world around me.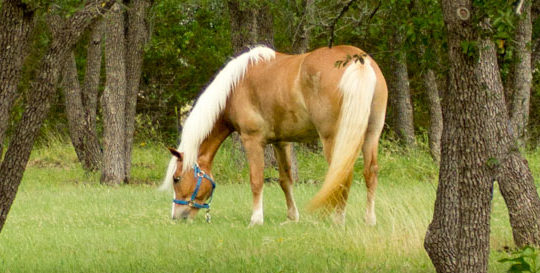 Like all horses, I love to eat and I know that it costs a lot to take care of a horse because besides food we need bedding, veterinarian and farrier care.  And then there are the special things we need to do our work–like saddles, bridals, fly masks, and reins. Just to give you an idea of what it costs for regular maintenance:
Every six weeks, hooves trimmed or pedicure ($30)
Daily bedding change (to keep feet clean and healthy) 7 bags per week ($42/week)
Daily feed, 16 lbs of hay ($14/day or $98/week)
That totals up to $870 every six weeks! Would you like to help with a donation to help take care of my needs?