Open My World wants to ensure that after their service, all our beloved horses retire to a life of leisure in our Hill country pastures. It's the least we can do to honor them for the gift of healing they have been to our lives and to the lives of the many individuals they have helped. We remember them fondly and share their stories with you here.
---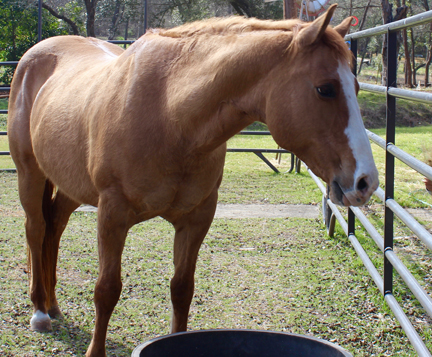 Sadie, was a rescue horse that came to Open My World after working for a while as a companion horse at another therapeutic riding center.  When she retired, she was adopted by a nice family with some eight acres of land for her to run and play on.  The family has three children who are so excited to take care of and love their new horse.  You can read a little more about Sadies work at Open My World on her page.
---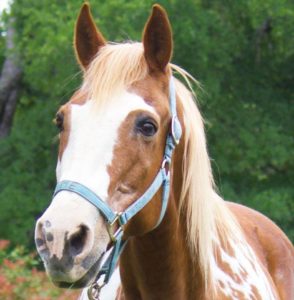 Flame was a handsome paint who lived a long and happy life, working as a cowboy's horse, then serving for about six years at Open My World. Flame was always ready to work, and had a heart of gold. Everyone who worked with him, loved him. He retired in 2015 to spend his last two years of life with a friend of the veterinarian who had managed his care for most of his life. He died quietly in his sleep at the ripe old age of 35 at his retirement home.
---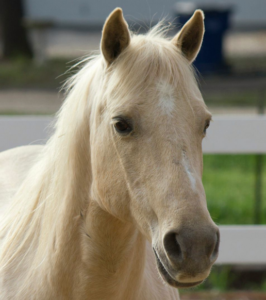 Ginger, a small Palomino mare, joined the group in 2011. Though not very big, she was strong and willing. When she arrived at Open My World, she was at home immediately as she joined her old stablemate, Flame, who was also working at Open My World. They had a great reunion and nickered to each other nearly all night! Both horses had been donated by their owner, who was pleased to see how much good her beloved horses were doing for those with special therapy needs. Ginger retired to a good home with a family who loves her and takes great care of her.
---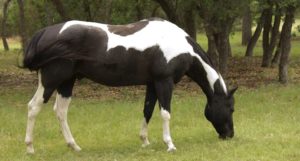 Max is a black and white paint who worked at Open My World for a short time. He was a terrific animal, who came to us when his owner was having seizures and could not care for him.  When medication relieved the seizures, Max went home to his original owner.
---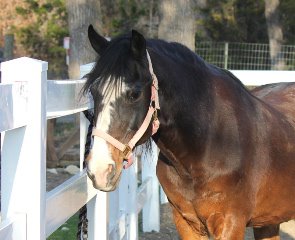 Blaze is a gentle horse from the breed know as Morgans. He got his name from the beautiful white stripe down the middle of his face. He joined the therapy group in 2011, but needed to be nursed to health for the first few months of his stay. Once he was healthy, he turned out to be a great therapy horse. When he retired, he moved to Taylor with one of our volunteers, who was starting a special ranch to take care of older horses. He still lives there today and is enjoying a very peaceful retirement under the tender and loving care of someone who really appreciates him.
---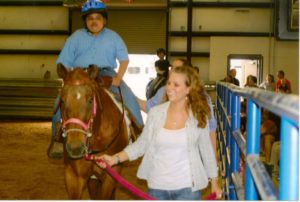 Daisy joined the therapy group in 2010.   At the time, she was the only mare in the therapy group and just loved being girly. She truly was as sweet as a daisy, and quickly became a favorite. She was exceptionally well trained and responded so well that she became a great go-to horse to teach new riders the skills they were trying to learn. Daisy actually belonged to one of our therapists, so she left Open My World with her owner when she took on a new job opportunity.
---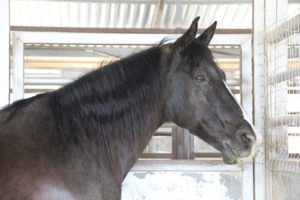 Target is a strikingly handsome black and white Tennessee Walker who started as a therapy horse in 2008.  His name came from the white patch that formed a near perfect bulls-eye on his hind quarters!   When Target retired, he was adopted by the nephew of the veterinarian that took care of all the horses at Open My World.  He still lives there today.
---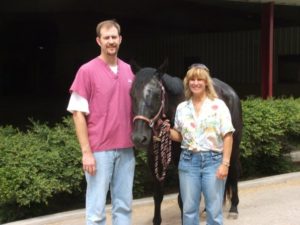 Jasper was a sweet and gentle Quarter Type who started working at Open My World during it's first year, 2008.  Even at 30 years old, he was an athletic animal with lots of get up and go and the quick gait of a young horse.  While at Open My World, he needed a surgery.  The community poured out their love and paid for his care.  He was able to recover very well and came back to serve as a therapy horse for some time after that.  What an amazing horse!  When he retired, he went to a great family who had a very sweet donkey.  Jasper and the donkey became the very best of friends.
---